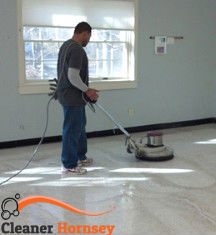 If you feel like giving your hard floors a really good clean, you should let our company handle the task.
We specialise in hard floor cleaning and polishing in Hornsey, N8 and are very dedicated to making your life easier.
We are hard workers who are very familiar with the ins and outs of hard floor upkeep. We are at your service from Monday to Sunday.
If you need our assistance, don't forget to drop us a few lines explaining your situation or give us a ring right away.
We will work things out for you. We can't wait to hear from you.
Second-to-none Hard Floor Cleaning and Polishing
The advantage of hiring our hard floor cleaning and polishing service in N8 is that you will get an unforgettable experience and an amazing outcome. It really is worth using our company.
More about our workers:
Fully vetted and background-checked
Professional to the core
Hard-working and spry
Experienced
Competent and capable
Our cleaning machines are so effective because they have everything we need for this job: they act like scrubbers, they can spread cleaning solution on the surface and they also use a power vacuum. So, they do a triple duty.
Hard Floor Cleaning Services in Hornsey, N8
What is more, they work with high capacity. Using our equipment, we have cleaned a great deal of hard floor surfaces around London for the past few years. We know what we are doing. We are confident in our skills.
We are fully acquainted with the process of restoring the beauty of your floors. We will make sure to polish the surface thoroughly after it has been cleaned of dirt and debris. This will add sparkle and smoothness to it. The results will be amazing.
Our hard floor cleaning and polishing service in Hornsey will save 100% on labour. You will focus your energy and time on other things, things that you always wanted to do. There is no need to keep on waiting. Grab the phone and sign up for a session.