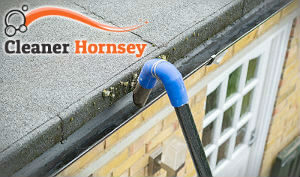 Based in Hornsey, we are committed to providing professional gutter cleaning services to hundreds of domestic and commercial property owners in and around the area. There are many gutter cleaning companies in this region, yet we are among the few to deliver a premium-quality service at rates our customers can actually afford.
Using our service will help prevent flooding and water damages to your property, but will also extend the life of your guttering system greatly. You can contact us for an appointment anytime.
We aim to further our customers' convenience so we work on a tight schedule throughout the week, bank holidays included.
Affordable Gutter Cleaning by Qualified Professionals in N8
If you lack the experience and high-end equipment, required to clean your guttering system properly, then our gutter cleaning service is just the thing you need – we cover the whole of N8, but operate in the surrounding areas as well. People choose us thanks to our:
Quick response time
A quality guarantee for a month
Friendly office staff on standby throughout the week
Cutting-edge vacuuming system and extendible poles
Insured workers with years of experience
Zero-obligation quotes
No extra charges for appointments over the weekends
With so many advantages, we would be surprised if you don't choose us for your gutter cleaning! We can undertake your gutter cleaning job at a time convenient for you and your family (or customers, provided that you are running a business).
" Many thanks to your amazing team of gardeners who came to clean my gutters last week. I had a great time, they were very polite and friendly. I liked their equipment and that they could work very quickly. They did a test, and everything was fine. Thank you. -Jeanette"
Affordable Gutter Cleaning Services in Hornsey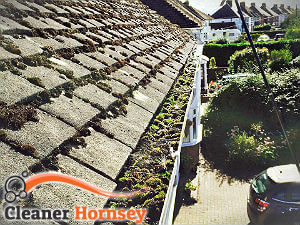 Our friendly team can drop by for a free-of-charge estimation on site. This will help them determine the price of the service in advance.
Our operatives can inspect the interior of your gutters and downpipes, using a telescopic pole with an on-board camera. The team will take "before" and "after" pictures so that you can make a comparison and evaluate the results of our work. Should we encounter any leaks or other issues with your guttering system, we will report them to you immediately, so that you can take measures before it's too late.
The most common cause of blockages in gutters and downpipes are compressed debris the likes of leaves, rotten acorns, moss, twigs and even abandoned bird nests. The good news is our wet/dry vacuuming system is capable of sucking away all debris, no matter how compressed they are. Customers in Hornsey, N8 are recommended to use our gutter cleaning service twice a year to ensure their gutters are always at their best. We are looking forward to servicing you!